Disinfectant Wipe, 7"x8", WipingSolutions, Monk, 80/CN
Product Information
A one step cleaner, disinfectant and deodorizer all in one. Antibacterial formula starts killing bacteria on contact. EPA registered to kill 45 bacteria, viruses and fungi. Kills Pandemic 2009 H1N1 influenza virus. Use in schools, restaurants, hospitals, dental offices, USDA inspected food processing facilities, institutional facilities, athletic and exercise faculties, health clubs, prisons, public restrooms, showers, bathrooms, and kitchen. Formulated for use in daily maintenance programs with the correct balance of detergents, biocides and malodor counteractants that deliver effective cleaning, disinfecting and malodor control. No mixing or measuring, ideal size for most economical, effective surface applications. A fresh, clean disinfecting wipe every time.
No reviews for this item yet.
Recently Viewed
No items viewed recently.
You May Also Like...
DISINFECTING CLEANER W/BLEACH 1 GAL BOTTLE...


HEALTH CARE DISINF. SPRAY (HIV-AIDS) 15.5o...


HEALTH CARE DISINF. SPRAY (HIV-AIDS) 15.5o...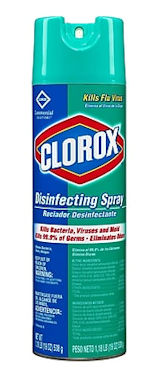 CLOROX COMMERCIAL SOLUTIONS DISINFECTING S...